Join our mailing list to receive updates on our route and latest findings.
Sign up today and receive a coupon code good for 15% off your next purchase!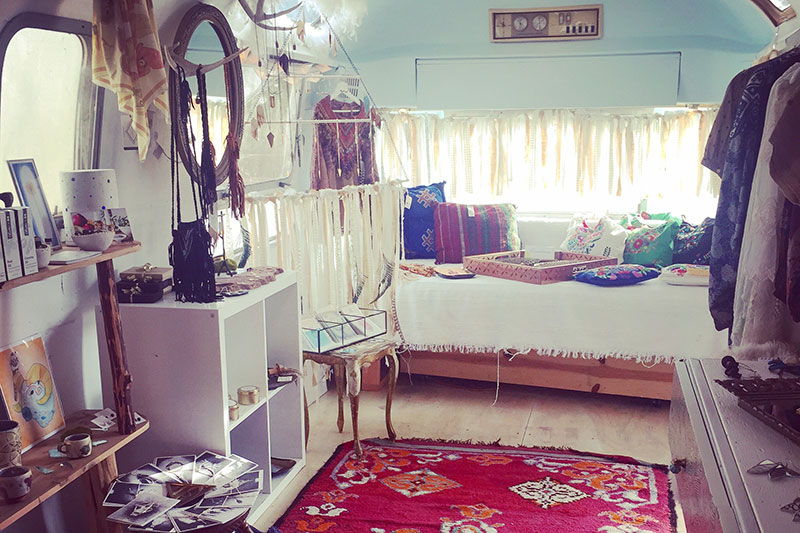 Sunstream Goods Story
SUNSTREAM GOODS IS A COLLABORATION OF KINDRED SPIRITS THAT SHARE AN AFFINITY FOR CREATING BEAUTIFUL THINGS BY HAND. WE TRAVEL FAR AND WIDE TO SPREAD ART AND GOOD VIBES TO THE PEOPLE. OVER 30 ARTISTS FROM A VARIETY OF MEDIUMS ARE REPRESENTED WITH A COMMON THREAD CONNECTING ALL OFFERINGS; A STORY THAT RELATES QUALITY, SPIRITUALITY, THOUGHTFULNESS INDIVIDUALITY AND CREATIVITY.

CRISTEN RENE', DESIGNER OF EROS COLLECTIVE JEWELRY, FOUNDED SUNSTREAM GOODS IN 2015 IN AUSTIN TEXAS. A YEAR LATER, SHE AND HER FAMILY SET OFF ON AN ADVENTURE TO EXPLORE THE WESTERN UNITED STATES, LIVING, WORKING AND EXPLORING IN THEIR AIRSTREAM. AFTER 7 MONTHS OF TRAVEL, THEY FELL IN LOVE WITH THE MAGICAL LITTLE VALLEY TOWN OF OJAI CALIFORNIA AND DECIDED TO PARK IT AND PLANT ROOTS.

THE 1970 AIRSTREAM THAT HOUSES SUNSTREAM GOODS CURRENTLY SERVES AS A DESIGN STUDIO AND TRAVELING SHOWROOM. FIND US OUTSIDE OF BOUTIQUE HOTELS, COFFEE SHOPS, MUSIC AND YOGA FESTIVALS, AS WELL AS PRIVATE EVENTS. WE ARE PRIMARILY MOVING BETWEEN OJAI, SANTA BARBARA AND LOS ANGELES, BUT VENTURE BEYOND ON SPECIAL OCCASIONS.